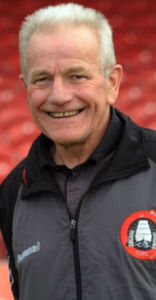 On the 14th of December 2021, peacefully in the presence of his loving family, Jerry, late of Cork City FC. Beloved husband of Rose (nee Deasy), adored father of Audrey and Tony and partner Sheyla, grandfather of Caen, Damien and Maximo. Brother of Betty, Michael and the late Teresa and Kieran. He will be sadly missed by his loving family, relatives and large circle of friends and former colleagues, both in sport and business.

May Jerry Rest in Peace

The family have asked to please respect that the house, church and cemetery will be strictly private.

For those who wish to pay their respects, a guard of honour will be formed at Turners Cross football ground from 12 noon on Thursday, the 16th of December, as the funeral proceeds to St. Joseph's Cemetery, Tory Top Road. All are welcome to pay their respects on the roadside as the funeral passes, but the family have asked to please respect all current government guidelines if you wish to attend. There will be an event arranged to celebrate Jerry's life in the new year that will be open to all who wish to remember him.

For those who wish to view Jerry's funeral mass can do so by following the below link on Thursday at 11am https://www.stmichaelsblackrock.ie/webcam/

Messages of Condolence can be left for the family by clicking on the 'condolence' link on www.rip.ie.
Date of Death: Tuesday 14th December 2021
See full deaths list